Ceramic fiber blanket is an incredibly versatile material commonly used in various industries for its excellent thermal insulation properties and ability to withstand high temperatures.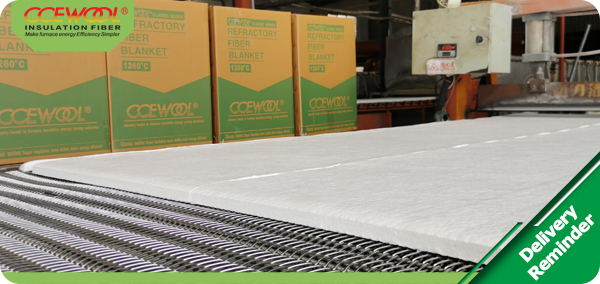 One of the primary uses of ceramic fiber is in thermal insulation applications. It is often used in industries that require high-temperature processes as furnaces, kilns, and ovens. These industrial processes generate extreme heat, and traditional insulation materials cannot withstand such conditions. Ceramic fiber blanket, on the other hand, is specifically to handle temperatures up to 2300°F (1260°C) without compromising its effectiveness.The ability of ceramic fiber blanket to provide superior thermal insulation is what makes it suitable for these applications. It effectively prevents heat transfer, thereby minimizing energy loss and reducing the amount of energy required to the desired temperature inside the equipment. This not only improves the overall efficiency of the process but helps in saving energy costs.
Ceramic fiber blanket is also known for its lightweight and flexible nature. This makes it easy to install and customize according to the specific requirements of each application. It can be easily cut into desired shapes and sizes to fit the equipment or system it is being used for. The flexibility of the material also allows for easy wrapping around pipes, furnaces, and other, providing a seamless insulation layer.
In addition to thermal insulation, ceramic fiber blanket also offers fire protection. Its high-temperature resistance and ability to withstand flames make it an ideal material for fireproofing applications. It is widely used in industries where fire safety is crucial, such as steel, petrochemical, and power generation industries.
Moreover, ceramic fiber blanket is also an sound insulation material. It helps in reducing noise levels by absorbing and dampening sound waves, making it ideal for noise control applications. It is commonly used in industrial facilities where noise reduction is essential the comfort and safety of workers.
Overall, the applications of ceramic fiber blanket are vast due its excellent thermal insulation properties, high-temperature resistance, flexibility, and fireproofing capabilities. It is a trusted material in various industries, providing energy efficiency, fire protection, and sound insulation Whether it is in furnaces, kilns, ovens, or any other high-temperature, ceramic fiber blanket plays a critical role in improving performance, safety, and overall efficiency.
---
Post time: Nov-20-2023