CCEWOOL refractory ceramic fiber paper is a thin sheet product made of various refractory fibers and mixed with various additives. It has good high temperature resistance performance and excellent thermal insulation performance, and can be used as high temperature thermal insulation material, high temperature gas filter material, high temperature buffer material, and can also be used as the lining material of non-ferrous metal solution launders.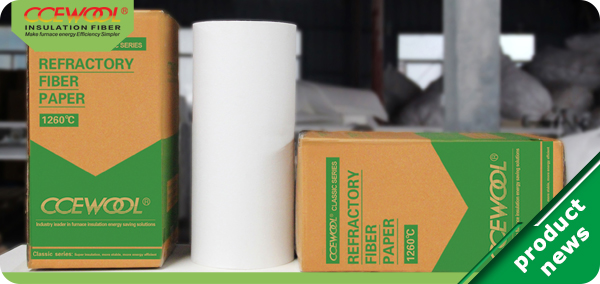 The aluminum silicate refractory fibers have no bonding ability between themselves, and it is difficult to form a sheet-like fabric with high strength. In order to improve the strength of the paper, dispersants, stabilizers, binders, etc. are generally added in the manufacturing process.
Manufacturing process of refractory ceramic fiber paper
The production process of refractory ceramic fiber paper is mainly divided into the process of purification and dispersion of refractory fiber, pulping, paper forming, dehydration and drying (burning off binder) and other processes.
The main raw material of refractory ceramic fiber paper is aluminum silicate refractory fiber, which is fully dispersed by water or other medium through the fiber, and rinsed cleanly to remove most of the non-fibrous material.
Use thermal synthetic fibers as the binder can significantly increase the normal temperature strength of the paper, and the addition amount is 2% to 20% of the refractory fibers.
In order to keep the pulp from precipitation, it is necessary to continuously stir the pulp, and in addition, polyethylene oxide should be added as a stabilizer for the pulp to slow down the precipitation speed of the fibers.
---
Post time: Apr-24-2022