Herringbone installation method of aluminum silicate fiber module is to fix the aluminum silicate fiber module, which is composed of folding blanket and binding belt and has no embedded anchor, on the steel plate of furnace body with heat-resistant steel herringbone fixed frame and reinforcing bar.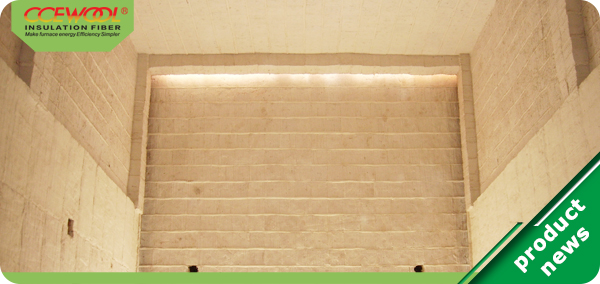 This method has simple structure and it is convenient for installation. The fixation of aluminum silicate fiber module is to connect the adjacent aluminum silicate fiber module into a whole through the reinforcement method. It can only be installed in the same direction in the same order along the folding direction. This method is applicable to the furnace wall of trolley furnace.
Herringbone installation steps of aluminum silicate fiber module:
1) Mark on the steel plate of the furnace wall, determine the position of the A-frame, and weld the A-frame on the steel plate.
2) Lay a layer of fiber blanket.
3) Insert the fiber folding blanket without anchor into the middle of the two herringbone frames and press it tightly, and then penetrate the heat-resistant steel reinforcement. Install one layer in sequence.
4) Fiber compensation layer shall be laid in the middle of each layer.
5) Remove the plastic binding belt and reshape it after installation.
Next issue we will continue to introduce the installation steps of the layered fiber structure, please stay tuned!
---
Post time: Mar-13-2023