Refractory ceramic fiber products have good thermal insulation effect and good comprehensive performance.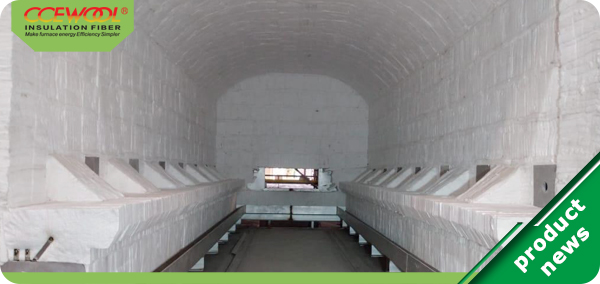 The use of refractory ceramic fiber products instead of asbestos boards and bricks as the lining and thermal insulation material of glass annealing equipment has many advantages:
1. Due to the low thermal conductivity and good thermal insulation performance of refractory ceramic fiber products, it can improve the thermal insulation performance of annealing equipment, reduce heat loss, save energy, and facilitate the homogenization and stability of furnace chamber annealing temperature.
2.The heat capacity of refractory ceramic fiber products is small (compared with other insulation bricks and refractory bricks, the heat capacity is only 1/5~1/3), so that when the furnace is restarted after the furnace is stopped, the heating speed in the annealing kiln is fast and the heat loss is small, which greatly improved he thermal efficiency of the furnace. For furnaces operating in gaps, the thermal efficiency improvement is more obvious.
3. It is easy to process, and can be arbitrarily cut, punched and bonded. It is easy to install, light and somewhat elastic, not easy to break, easy to place in places that are difficult for people to access, easy to assemble and disassemble, and can still be insulated for a long time at high temperatures. In this way, it is convenient to quickly replace the rollers and check the heating and temperature measuring elements during production, reduce the labor intensity of furnace construction, installation and maintenance, and improve the labor conditions.
Next issue we will continue to introduce application advantage of refractory ceramic fiber products in metallurgical industry. Please stay tuned!
---
Post time: Aug-01-2022